New spaces
We've inaugurated 50 new rooms, 14 new workrooms and a new space called Agora that you will love. ¡Not only that! Do you want to know some more? We are so happy to be able to expand all the spaces of the hostel!
Eco hostel
Did you know that Centre Esplai has BIOSPHERE sustainable tourism certification? We save water, recycle, produce green energy, use local foods, educate others about sustainability, etc.
Natural and comfortable oasis
We have everything you need for an ecological, accessible, easy and unforgettable stay in Barcelona. Centre Esplai is perfect for families, school groups, sports clubs, conferences and anyone who wants to take care of the environment. Sound just like you, right?
These groups have stayed with us
The Spanish Suzuki Method Federation held our annual teaching meeting at Centre Esplai. The proximity to the airport really made our logistics easier, and the comfort and versatility of the spaces really suited the meetings. The family playroom was a hit that helped us with family balance.
Our organization, CAPS – Home to Home, has been using the Centre Esplai Hostel for 4 years. This is the best spot to carry out our sessions due to its proximity to the airport, spacious rooms, restaurant, parking, auditorium, etc. An unbeatable space for formal sessions and workshops, or carry out a session in the garden.
Even if it doesn't seem like it, coming for a weekend to visit Barcelona can be very, very profitable. We tell you how!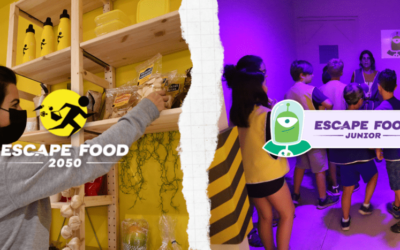 The trend of Escape Rooms is obvious. Discover our Escape Food 2050 and Escape Room Junior. You will have the best time!
Do you know what an eco-friendly footprint is and why it is so important to consider it when traveling? Keep reading to find out!
We are Fundesplai
We are a non-profit organisation that has been working on behalf of education and happiness for children, equality, social inclusion, protecting the environment and developing the tertiary sector for over 45 years.
The Centre Esplai Hostel works with us on our educative, social and environmental tasks.