One of the most significant problems in the world scope is the availability of an essential resouce such as water: we currently know that more than 1,000 million people live in regions lacking this resource, and there are 3,500 million more that could be in the same situation by the year 2025. That date isn't so far away, is it?
However… what are the causes that have lead us to this limit point where the supply of water cannot meet the needs of the current demand? It is clear that contaminationand climate change play a very important role in this issue, as well as poor use of the same (including both on a large scale – water used for industries, for example – and on a small scale – water used at home) In any case, we have to be aware that humans are essential to curbing this devastating situation that affects the worldwide population.
That is why in this entry we are talking to you about a very interesting method in order to become more prudent and logical in our use of water at home or in a hostel: we're talking about recycling grey water. What does this mean? Keep reading!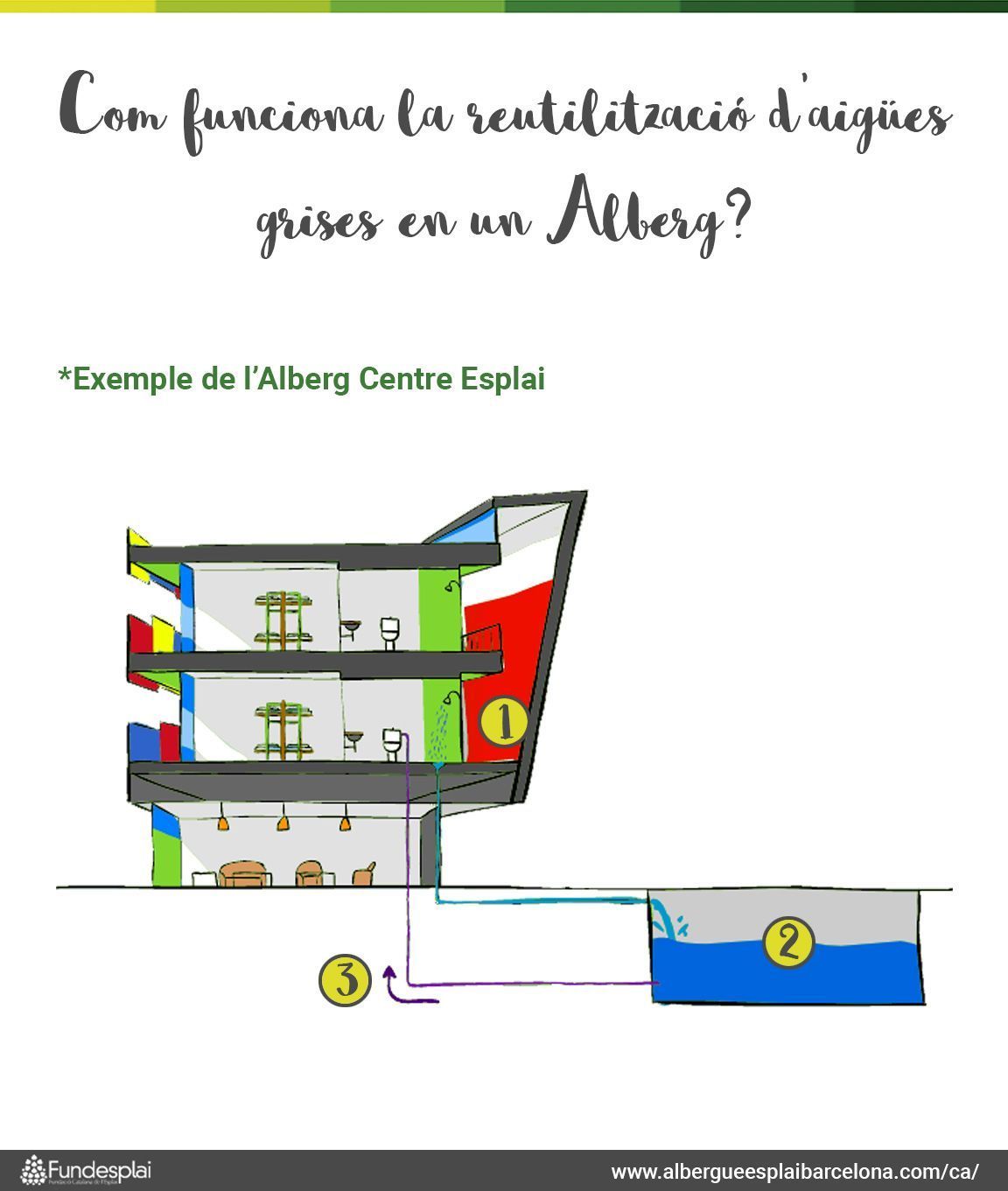 1. When we use the shower and the tap in the bathroom it is clear that we are using a lot of water to clean ourselves. Do you think it is possible to re-use this already-used water?
2. This type of water is called "grey water" that can be stored inside a special tank that helps to eliminate impurities and gradually oxidises the water in question.
3. Thus, we can use this water, that has been filtered, to fill our WC cisterns. It is clear, however, that this is not drinking water and it is recommended it is dyed with a colour like blue so that users can be aware of this.
As you can imagine, this system that we use in the Centre Esplai Hostel helps us to comsume 58% less water, quite a significant figure that, together with the sustainable systems in the building such as the use of solar heat pipes or solar panels –turns the Hostel into an environmentally friendly and sustainable space!
Do you like the idea? Apply the same system to your Hostal or accommodation and you will notice an enormous and exponentially sustainable change. We take care of the water in our environment and we are in the fight for a sustainable and high-quality future!